My full name, for the purpose of establishing my personal brand (and good SEO!) is Shawn C. Reed, but you can just call me Shawn. 😉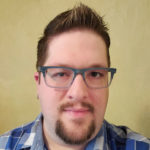 I have lived and breathed computers and technology since I was a young child, and I have been working in the IT/digital world for the past 25 years, including over 11 years of experience in the digital marketing/analytics industry and 15 years in product development and usability. I love seeing new ideas take shape, and I bring my passion for software development, innovation, and entrepreneurship to everything I do. Outside of work, you'll find me playing video games, DJing, or traveling.
Need to know more? Get in touch!